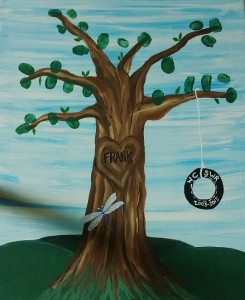 I am so thankful to have had the opportunity to play with the children at Anselma as a volunteer in the Child and Your Program. I have been blessed to have two wonderful careers after completing a teaching career.
Playing with the children at Anselma meant the world to me. As an abuse victim and seeing my mother being abused by my stepfather, I understood a little the nightmare that these women and children go through. Often, when I would see the children at Anselma, I would see me as a little boy. I would remember hiding under the bed to get away from my stepfather.
From the bottom of my heart, I want to thank the staff at Women Crisis Services for their help and support. When I started as a volunteer at Anselma, my volunteer group contained the first men. I did not know what to expect. I was really nervous. So I want to thank Mary and thank all of you who supported me in this wonderful adventure. I still look forward to helping at fundraising and public awareness events.
I want to thank my wife Ginny for her constant support and patience. When I would come home after a shift at Anselma, Ginny would patiently listen to all that occurred that day at Anselma.
I also want to thank my mother who endured years of abuse and tried to protect me when my stepfather would go after me. My mother would physically intervene to protect me. My mother continues to be an inspiration to me.
I have always been inspired by something that Dr. Martin Luther King Jr said:
Everybody can be great¦because anybody can serve. You don't have to have a college degree to serve. You don't have to make your subject and verb agree to serve. You only need a heart full of grace. A soul generated by love.
Written by an outstanding volunteer.