United Way KW's Day of Caring is about making a difference with more than just dollars, explains event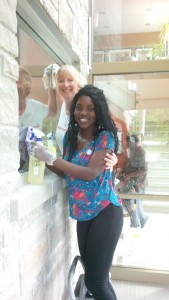 organizer Bobbie Oates, Manager, Marketing & Communications. It's about highlighting the importance of volunteerism as a way to create lasting change in our community.
Each year, United Way KW matches volunteers from participating organizations and workplaces with various community projects throughout Kitchener Waterloo and the surrounding townships.
Today, June 5, Women's Crisis Services is so happy to welcome volunteers from Canadian Aweil Youth Association to donate their time and skills. We are also happy to have United Way KW Volunteer Ambassador Carol Brandt on site to help manage the project and bring her energy and support as well.
Luka, Aluer, Bak, and Clement are really helping to brighten our Anselma House shelter by cleaning our windows and doing some much needed spring cleaning.
They are hard working and happy to help, which embodies the ideal volunteer!
Thank you to United Way KW for inspiring our community to give of themselves in many different ways. And thank you to Canadian Aweil Youth Association for your help to brighten our day at Anselma House.