There are many ways to support the work of Women's Crisis Services and the women and children we are serving.  A donation of gift cards is one way that you can share your generosity.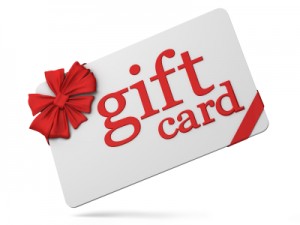 Whether that card is to purchase a birthday present for her teen or to help her purchase supplies for her new kitchen, women who receive gift cards are given the opportunity to be independent and make their own choices. It is likely that the abusive situation that she left was a very controlling environment, and the act of independently shopping allows her to exercise these new freedoms and skills.
Gift cards have also helped us be able to react to specific needs of those who arrive at shelter. Although we try to stock out shelves with your donations of goods and supplies, we sometimes run short. When a specific need arises, we are grateful to be able to rely on gift cards to be able to purchase supplies. In one case, a mom and her preemie baby had just arrived in shelter. Our baby supplies were pretty full but we didn't have the smallest size of diaper that was needed. We used a gift card to purchase those diapers for the smallest of survivors and were able to provide comfort and care while they were in shelter.
If you are thinking of donating gift cards, here are a few suggestions:
1. Supporting our work: cards for grocery stores allow us to react to specific dietary needs, provide food at our women's counselling groups, and can also provide a few meals to women when they leave shelter.  Personal care can be supported through Shoppers Drug Mart or Walmart cards.
2. Teens: If you want to support teens, a donation of iTunes, Chapters, movie passes or coffee shop gift cards are always a good fit. Also, gift cards for a mall or an electronics store are always a great idea for teens. We can then ask mom to do the shopping or we can give the card directly to the teen who can choose the specific item they want.
3. Providing a fresh start: as women leave the shelter, they are starting a life free of violence. It is our goal to provide support for this fresh start including a pillow and linens to take with them. A gift card can be used to get those other supplies like mixing bowls, plates, a lunch box, toilet paper and other household items. Some suggestions include Giant Tiger, Walmart, Shoppers Drug Mart, Grocery Stores.
Gift cards can provide independence, choice, comfort, care and an opportunity for women and children to move beyond violence. These thoughtful gifts are welcomed by Women's Crisis Services year round as we continue to open our doors to those escaping violence and abuse. As the only agency of it's kind in Waterloo Region serving upwards of 75 people at times, we are grateful for your support in many forms, gift cards included.