As Canada celebrates 150 years of compassion, fellowship, support and growth, our shelters are marking a year of expansion and growth as well.
This year alone, each of our two shelters will serve 150 women and 150 children who are escaping domestic abuse.
We need your help to provide safe shelter and programming for today's 150, and tomorrow's 150.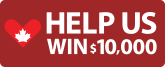 To mark Canada150 we are participating in the Great Canadian Giving Challenge, and your donation can help us win more support!
Every $1 donated through our donation link in JUNE enters us into a grand prize draw of $10,000.
Here is the link to donate online now:
https://www.canadahelps.org/en/charities/womens-crisis-services-of-waterloo-region-anselma-house-haven-house/impacting-150/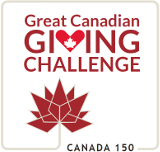 Please consider donating a signature gift of $15, $150 or $1,500 to mark Canada's rich history of compassion and support, and to provide a future for our 150 women and children.
Or, ask 15 of your friends to donate $10 each.
Every time you donate, we are entered in a draw to win a grand prize donation of $10,000.
Your generosity does change lives, and helps to break the inter-generational cycle of abuse.
https://www.canadahelps.org/en/charities/womens-crisis-services-of-waterloo-region-anselma-house-haven-house/impacting-150/