We are proud to thank OpenText who dedicated their spring campaign to help Rebuild Haven House, the shelter supporting abused women and their children located in Cambridge. This type of employee driven campaign in a tech company is ground breaking for WCSWR who hopes that it inspires other companies to reach out and do the same for our community.
 OpenText announced a donation of $44,000 in the safety and the future of women in our region.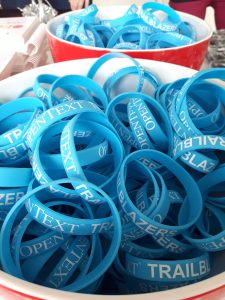 Over a six week period, OpenText employees participated in onsite fundraisers, reached out to friends and family, and advocated on behalf of WCSWR. The employee fundraising total reached over $20,000 and OpenText rewarded their efforts by matching that with a $20,000 donation. As donations continue to come in, OpenText announced a total of $44,000 on Wednesday at a wrap up celebration and walk around the David Johnston Research and Technology Park in Waterloo. Other tenants and representatives of the Park were on hand to share in the celebration and were encouraged by OpenText's support for the community.
It was also announced that the charitable proceeds from the R&T Park golf tournament will be directed to Haven House this summer, a potential $10,000 donation.
We are proud to partner with OpenText and with the David Johnston R & T Park at UW to ensure that each woman in Cambridge who needs help, will have what she deserves¦.a Rebuilt Haven House, says CEO of Women's Crisis Services, Mary Zilney. Every abused woman and child in our Region deserves a facility that supports them to move forward and break the intergenerational cycle of abuse so that the next generation does not need to seek our help. We rely on our community to help us move beyond violence.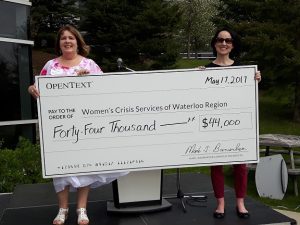 Mary Zilney, CEO of Women's Crisis Services is grateful for this additional generosity.
"Due to our shortfall in fundraising for the rebuild Haven House project, we have a mortgage which is a hardship for our agency. We continue to seek community support and are so fortunate to have forged this relationship with OpenText. Mark Barrenchea really lead the charge with is direction and the leadership and staff of OpenText passionately participated to reach their goals.  Our sincere thanks is extended to everyone who worked so diligently to make this happen."