We are so honoured to be chosen by OpenText (Waterloo Location) as their charity partner for their spring fundraising campaign!
Over the next five weeks, the employees and leadership of OpenText will be learning about how they can support Rebuild Haven House and how together, they can share their POWER TO PREVAIL.
Their history of community caring and impact stretches as far back as their roots, and with this important and timely campaign will also leave a definite legacy in Waterloo Region.
Internal fundraisers and initiatives will culminate in a wrap up celebration and walk in the research park in May.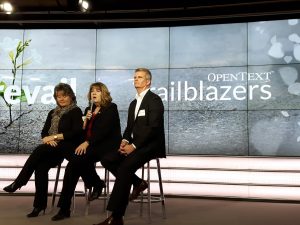 Brenda Halloran and Inspector Greg Lamport joined Mary Zilney, CEO of Women's Crisis Services and Alan Sharpe, Fund Development Manager, to thank OpenText for their enthusiasm and their vision to encourage their employees to be trailblazers and join together to help break the intergenerational cycle of abuse.
Our partners at 570 News were there to help us spread the good news of this partnership!