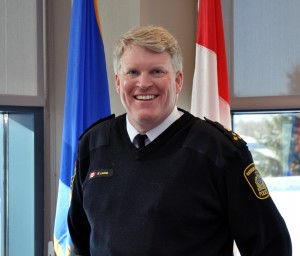 Here is a man that needs no introduction.
Waterloo Regional Police Services Chief Bryan Larkin, along with his team, have been strong partners of Women`s Crisis Services for more than 20 years.
Bryan was appointed the 7th Chief of Police of the Waterloo Regional Police services in 2014, but began his policing career in 1991 as a front line constable. Chief Larkin is committed to enhancing the effectiveness of operational policing services while developing long term strategies to build a strong, healthy and vibrant Waterloo Region.
He is an advocate for awareness of domestic violence in our Region and encourages the policing programs and partnerships within our region to prevent crime and abuse.
But here is your chance to see him in another role.
Chief Larkin will be on stage as a cast member in Rage Against Violence, a theatrical production during our event ONE ACT.
The Chief recognizes the importance of awareness and support, and is lending his voice and his presence to fulfill our vision for this night of awareness, education and impact. Although he has no official theatre credits, we know that his experience with survivors of abuse and his dedication to serving our community will lend truth and empathy to his role in our production.
The Chief also encourages our community to SPEAK OUT as their ONE ACT they can do to help us all move beyond violence.
Waterloo Regional Police Services Chief Bryan Larkin will be on stage during ONE ACT as a cast member in the Rage Against Violence play. Thank you, Chief Larkin, for your support in so many ways.
 To purchase tickets to this event, contact Drayton Entertainment 1-855-372-9866.