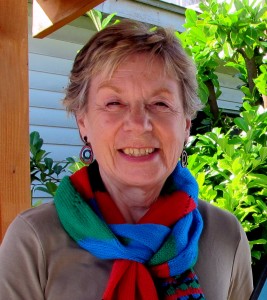 We are honoured to introduce to you one of our featured readers in the upcoming production "Rage Against Violence".
Pat Aplevich is a long time resident of Kitchener – Waterloo and has contributed in many ways to making our community a kinder, better place to be.
As a mother and grandmother, her dedication to caring extends inwards and outwards. She has even been rewarded for her community service several times:  2014 Zonta KW Senior Woman of Achievement 2011 Volunteer of the Year: Grand Valley Trails Association 2011 Volunteer of the Year: Hike Ontario 2010 Ontario Volunteer Service Award 2008 Salute to Seniors, City of Kitchener
Pat believes that "Women must help other women in the battle against domestic violence. We must stand up for ourselves and our sisters wherever and whoever they may be. Home should be a haven, not a threat to ourselves and our children."
As we focus on ONE ACT that we can do to help end violence against women, Pat suggests participating in an event like "Take Back the Night", making a cash donation, and being vigilant, responsive and supportive of women in crisis.
She herself is a supporter of Zonta KW and an active member of an affiliate to Stephen Lewis' Grandmothers to Grandmothers campaign.
Pat will be on stage during ONE ACT as a reader in the Rage Against Violence play. Thank you Pat, for all that you have done and continue to do for women and children.
 To purchase tickets to this event, contact Drayton Entertainment 1-855-372-9866.