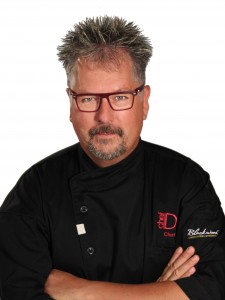 Long time friend of Women's Crisis Services, Chef D is joining us on stage as part of the cast of Rage Against Violence. For years he has offered his support in any way and he didn't hesitate to agree to this role, even before completely understanding what the role included. He just wanted to help.
Chef D has launched his fourth season of his top rated cooking show, ˜At Home with ChefD' on Rogers TV. He is the author of two cook bookettes, Maple Madness and Garlic Madness.  ChefD has prepared meals for the likes of the Late BB King, Stuart Mclean, Blue Rodeo, Michael Buble, Diana Krall and many others.
You will recognize him as the popular host of ChefDtv.com, an innovative online cooking show, and he creates new recipes and flavour profiles for Pillers Meats, Gold Seal, Gay Lea, Kenwood and Nutra Farms and Grand River Foods. ChefD believes in sharing his passion for food with others and keeping recipes simple, easy and incredibly tasty!
ChefD, or as some know him -Darryl Fletcher, believes more men need to be positively involved in the Rage Against Violence. So I started with me.  I would love to be able to be a part of a new movement of men that redefine what a ˜man' is.  To be strong, in compassion.  To fight, against violence.  To yell, when someone doesn't have a voice.  I am blessed to work deeply within my community and I get the privilege of talking and socializing with a lot of people.  Sometimes when I look into people's eyes I only see a face and not the pain hidden inside.  By supporting Women's Crisis Services of Waterloo Region, I could be helping this someone. As the band, The Casting Crowns sung so perfectly our being men, This is our resolution Our answer to the call We will love our wives and children We refuse to let them fall
I want to be that man.
Thank you Chef D, for all that you do to support our community. And thank you for being in the cast of Rage Against Violence.To purchase tickets to this event, contact Drayton Entertainment 1-855-372-9866.