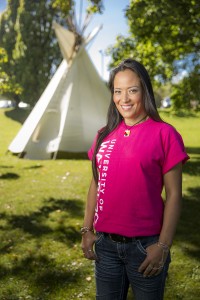 Amy Smoke is a Mohawk woman from Six Nations, a single mother, and full time student at the University of Waterloo.
On top of all of that, we are honoured that she is a cast member in "Rage Against Violence", a theatrical performance at our event One Act.
Amy is resilient, strong and focused. She shares that "I stayed at Anselma House when I began to turn my life around  and am forever grateful for the services provided to get me out of an abusive relationship."
As an urban Aboriginal, Amy has overcome many of the intergenerational traumas within her family due to residential schools and loss of her culture. She has dealt with substance abuse issues, violent relationships, incarceration, and homelessness. Amy now speaks to First Nations, Metis and Inuit youth about her journey and finding her identity within the KW Aboriginal community. As the President of UW's Aboriginal Student Association, Amy has helped other urban Aboriginal students find their traditional teachings, traditions, language and culture.
We know that Amy is an advocate and a survivor, so to isolate ONE ACT that she does is almost impossible. It is important to highlight that she is an active speaker regarding the murdered and missing Indigenous Women movement and supports on campus events such as "Can I Kiss You" which relates to sexual assault. 
Amy suggests that the ONE ACT we can all do is to tell a friend, tell your family, spread the word and actively help to stop violence against women in all aspects of your life.
Amy will be on stage during ONE ACT as a cast member in the Rage Against Violence play.
To purchase tickets to this event, contact Drayton Entertainment 1-855-372-9866.