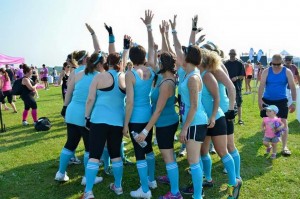 Earlier this year, Ryan Browne signed up to do the Muderella Run and started recruiting her friends to participate with her. To participate, your team must complete obstacles on a 5-7 mile course that are made even more challenging as they and YOU are covered in MUD!
When they signed up for the race, they were given the option of fundraising for the charity affiliated with the event, Futures Without Violence. This charity, while very worthy and doing great work, was based in the USA. Ryan and her team felt it would be better if they could raise money that would go directly back to their own community and they picked Anselma House.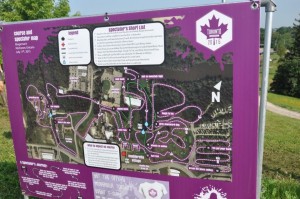 Ryan and her friends worked hard to recruit a team of 14+ and reached out to Women's Crisis Services to see if they could support us through their fundraising dollars. Although participants couldn't choose their own charity, Ryan's team started their own online fundraising site and also collected pledges in person, to inspire them to finish and to support Anselma House.
The grueling full day event took place on July 11 at Bingeman's and the weather and the MUD cooperated. The team reported that they "Had a great day filled with lots of laughs. It was pretty amazing to watch your friends conquer some fears that they have, as well as complete obstacles that they never thought they could do!"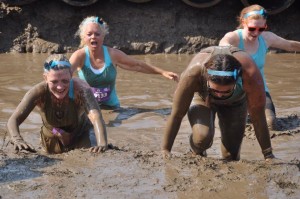 With all of their "off course" efforts they raised $855 online for Anselma House and $830 in person! After all the mud was washed away and the muscles recovered from the course, Ryan visited Anselma House to deliver the donations in person.
She is already looking forward to next year's event and so are we. Women's Crisis Services is so proud to have been the charity of choice for this team competition. Your teamwork, determination and dedication to helping women and children is a great example for other Mudderella's to follow. Events that bring people together to achieve a common goal are a great way to also share your passion and create lasting memories. Even though it wasn't good CLEAN fun, it still looks like GOOD FUN!
Thank you for choosing Anselma House and for helping us move beyond violence with your support.