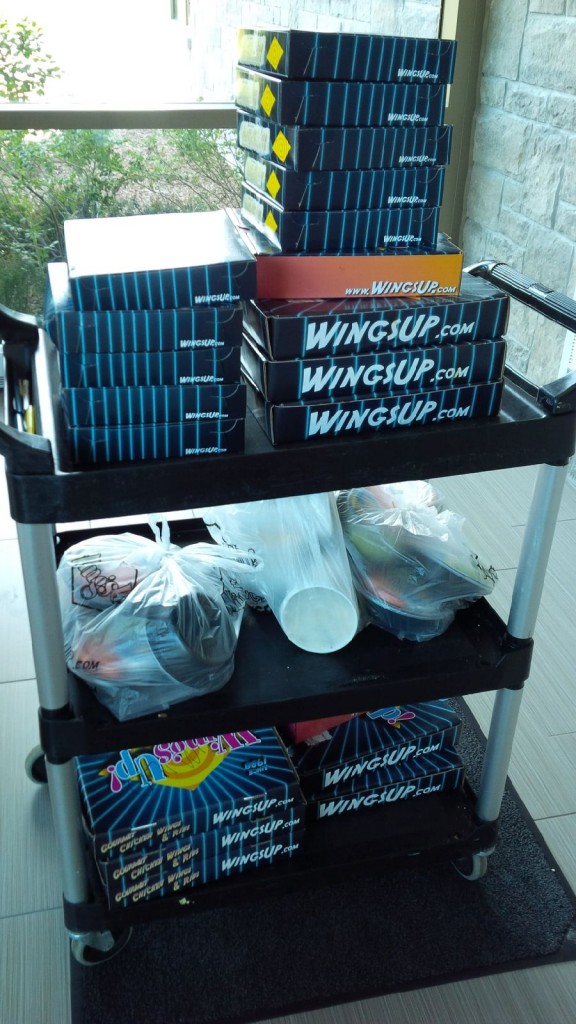 It is always humbling when people in the community give of themselves and their resources to support our work and to help us support women and children moving beyond violence.
There are many unique ways in which businesses have encouraged their employees and their customers to learn about Women's Crisis Services.
Our partnership with WINGS UP is a great example of leadership in that regard. After their involvement with VOICES CARRY, a signature event, they wanted to do more. The owner, Chris Rau, was inspired to provide help in one very special way.
Each month, the residents of ANSELMA HOUSE in Kitchener celebrate WING NIGHT with a delivery from WINGS UP! This night includes not only a variety of chicken wings but also all the fixins like dips, salads and even extras like onion rings!
Women and children indulge in their favourite flavours, gluten free options and event boneless wings. As our funding is very limited, this is the type of treat that we wouldn't otherwise be able to offer to our residents.
We are so thankful to Chris, and the staff of Wings Up, for opportunity to have this special night monthly at Anselma House and we hope other local businesses will follow their lead. Thank you for joining us as we move beyond violence and for this gesture of kindness and support.