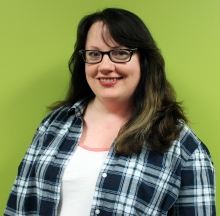 We needed a champion and we found one!
Charlotte Armstrong is joining us on stage at ONE ACT as one of the cast members of Rage Against Violence.
Charlotte is a community champion focused on coordinating events that create safe and inclusive spaces for people. These events help people connect and feel a sense of belonging while also learning new things and having fun. 
Since moving to the Waterloo Region in 2010, Charlotte has coordinated many community events and organizations including The Planetary Society of Waterloo Region, the Southern Ontario Science Fiction Festival, Ada Lovelace Day, the Southern Ontario Space Research and Technology festival, and Nerd Nite KW where she met Playwright Dwight Storring. As Charlotte puts it "When I was a young mom, I was lucky enough to have the help of a women's emergency centre so I was very eager to have the chance to contribute to this impactful event."
Aside from currently working 3 jobs, Charlotte continues to volunteer not only at her own events, averaging at least 15 events per year, but also at other community events such as Night\Shift. Charlotte also takes classes to continue her love of learning and loves spending time with her adult daughters and family. As a single mother, Charlotte understands first hand the struggles and fears women often face and she is honoured to support the Women's Crisis Services.
Charlotte believes that encouraging conversations about redefining masculinity to include gentleness and kindness is ONE ACT she is doing to help our community move beyond violence. She encourages others to "Donate. Be it money, items, or time, the Women's Crisis Services is an essential part of healing for women and families in need."
 Thank you Charlotte, for finding the time and lending your passion to Rage Against Violence.To purchase tickets to this event, contact Drayton Entertainment 1-855-372-9866.