Women's Crisis Services of Waterloo Region presents a fundraiser to support women and children fleeing domestic violence in Waterloo Region
Featuring international keynote speaker, Mildred D Muhammad
Supper  |  Entertainment  |  Keynote Talk and Q&A
Thursday, November 9, 2017, 5pm to 9pm
Bingemans
425 Bingemans Centre Drive, Kitchener
Doors Open: 5:00 pm
Light Supper: 5:15 to 6:00 pm
Program starts: 6:00 pm
Entertainment: Soloist Robin Warwick from The Singer's Theatre
New Keynote Speaker*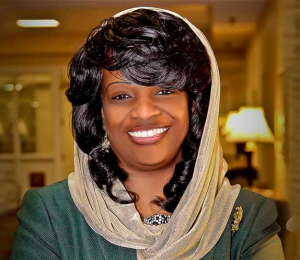 Mildred D Muhammad.
As the ex-wife of the D.C. sniper, John A. Muhammad, who went on a three-week rampage, with the end result, as stated by law enforcement, was to find Mildred and kill her too, the very personal details of her experiences involving fear, abuse and many of times, victim-blaming, has allowed Mildred's mission to be even more influential and of greater purpose.
Simply stated, she was a victim who became a survivor and is now a warrior on the issues of domestic abuse/violence. She shares her expertise on what it's like to be a victim and a survivor of domestic violence "without physical scars." Her authenticity is as remarkable as her unforgettable story of abuse.
After counseling herself and her children to survive victim-blaming through the midst of adversity, she transformed her tragic circumstances into an opportunity to establish ground on all forms of Domestic Violence that are often overlooked such as verbal, mental, economic, spiritual, stalking and emotional abuse.
Her critically acclaimed memoir, Scared Silent: When the One You Love Becomes the One You Fear, was published by Simon & Schuster in 2009. Muhammad has self-published two working journals, A Survivor's Journal and Dare to Heal, as well as Planning My Escape (a comprehensive step by-step safety plan) specifically for victims and survivors to help with the emotions that others may not understand and strategically leaving an abusive relationship. Her second and last memoir, I'm Still Standing has been released.
She has received many awards such a Special Commendation presented by the Office on Violence Against Women, Maya Angelou "Still I Rise" Award, Shirley Chisholm Woman of Courage Award and REDBOOK Strength & Spirit HEROES Award, as well as multiple awards from the military community…just to name a few."
* Melissa Moore, our original keynote speaker, had to cancel.
Tickets: Only $49
Table of 8: $353
Space is limited to 325 people, and we expect this event to sell out, so buy your tickets now.
In recognition of 11 years marking Woman Abuse Awareness Month
---
---
If you prefer to register by phone, please call:
Luisa Gallego, our Fund Development Assistant, 519-741-9184 ext 2038.
or
Alan Sharpe, our Fund Development Manager, 519-741-9184 ext 2003.