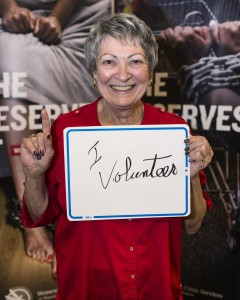 We are all capable of just One Act to help our region move beyond violence.
Recently we asked attendees of our event ONE ACT if we could share with the community, the ONE ACT they do.
We received several photos and suggestions of great ideas and hope that you will share them with your family and friends.
Whether it be something public or private, in a group or alone, intentional or not, we can all do ONE ACT to let survivors know we care and we are here to support hem.
If you have ONE ACT you would like to share with us, please send your photo with your NUMBER ONE finger and what your ONE ACT is to Kourtney.beckman@wcswr.org and we will very proudly share it on our website and social media!
We ask that you also think about making a donation as your ONE ACT. This is one act that will change the lives of women and children who are escaping abuse.
It is our hope that your One Act will inspire others to join together and share One Act with our community; donating, volunteering, speaking out, sharing.