Sponsorship Opportunities for Hats Off to Mom!
We need your support for Hats off to Mom! our 4th annual Mother's Day Brunch fundraiser in support of women and children in our community who have experienced domestic violence, and come to us for support. Treat your moms, while helping our moms!
We're currently seeking sponsors for Hats off to Mom!, which is taking place virtually on Sunday, May 9, 2021. This unique event will feature delicious brunch boxes curated by Tapestry Hall, as well as DIY activities to enjoy at home (such as learning to make your own fascinator!), a special Mother's Day Spotify playlist, Mother's Day movie suggestions, and other great ideas to pamper mom on her special day. You will also receive early access to our virtual silent auction. Proceeds from the event will go directly to supporting the women and children we serve at Women's Crisis Services of Waterloo Region.
Why Become a Sponsor?
For over 40 years, we have empowered women to move beyond violence. We do this by providing safe shelter and support services to women and children experiencing domestic violence. We operate two shelters for at-risk families who have no safe place to stay: Haven House in Cambridge and Anselma House in Kitchener.
You do not need to be staying in our shelters to access our services. We run a free, confidential, outreach program that can be accessed by contacting our 24/7 support lines. The program is flexible, accessible and has no wait list. We assess risk, help clients develop safety plans, navigate the legal system, and find safe, affordable housing. We serve all cities and townships in Waterloo Region.
With your help, we will be able to have a successful fundraiser and continue providing essential services to those who need it most.  With your sponsorship, you will be providing safety, dignity, and comfort to the women and children in the community seeking our help.
Sponsorship Levels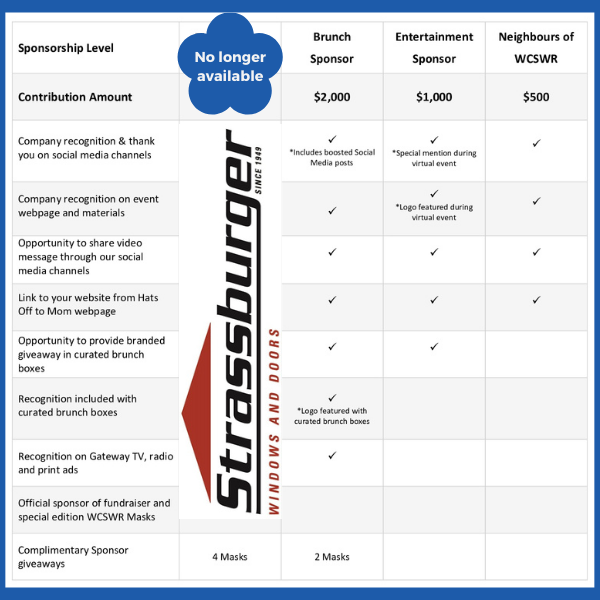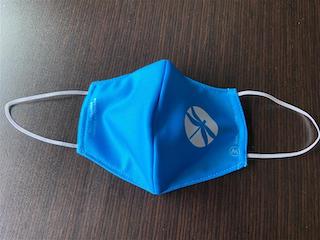 How to Become a Sponsor
Download the Sponsorship Package below and fill out the form on the last page.  
We are currently seeking donations for our Virtual Silent Auction. If interested in supporting our efforts with a donation to our auction, please download the In-Kind Sponsorship Package below, and fill out the form on the last page. 
Return the form to:
Jenna Mayne, Communications and Fund Development Manager | 519-741-9184 ext 2003 | jenna.mayne@wcswr.org
Thank you for your consideration in sponsoring Hats Off to Mom! in support of women and children in our community.