Sponsorship Opportunities for Hats Off to Mom!
We need your support for Hats off to Mom! our 3rd annual Mother's Day Brunch fundraiser in support of women and children in our community who have experienced domestic violence, and come to us for support. Treat your moms while helping our moms!
We're currently seeking sponsors for Hats off to Mom!, which is taking place on Sunday, May 10, 2020 at St. George Banquet Hall in Waterloo. This delightful event will feature a delicious brunch, entertainment by local favourite Juneyt, a silent auction, wine pull, photobooth and more. Proceeds from the event will go directly to supporting the women and children we serve at Women's Crisis Services of Waterloo Region.
Why Become a Sponsor?
For over 40 years, we have operated two emergency shelters in the Kitchener Waterloo, Cambridge area, providing safe shelter to women and children fleeing domestic violence. We also facilitate a regional outreach program to support women leaving our shelters and transitioning to independence, as well as women who are still in abusive situations and need assistance. We are the only agency of its kind in the Waterloo Region. As our region grows, so does the number of people seeking support. Last year, we had an increase of 300 calls to our support lines. With your help, we will be able to have a successful fundraiser and continue providing essential services to those who need it most.  With your sponsorship, you will be providing safety, dignity, and comfort to the women and children seeking our help.
Sponsorship Levels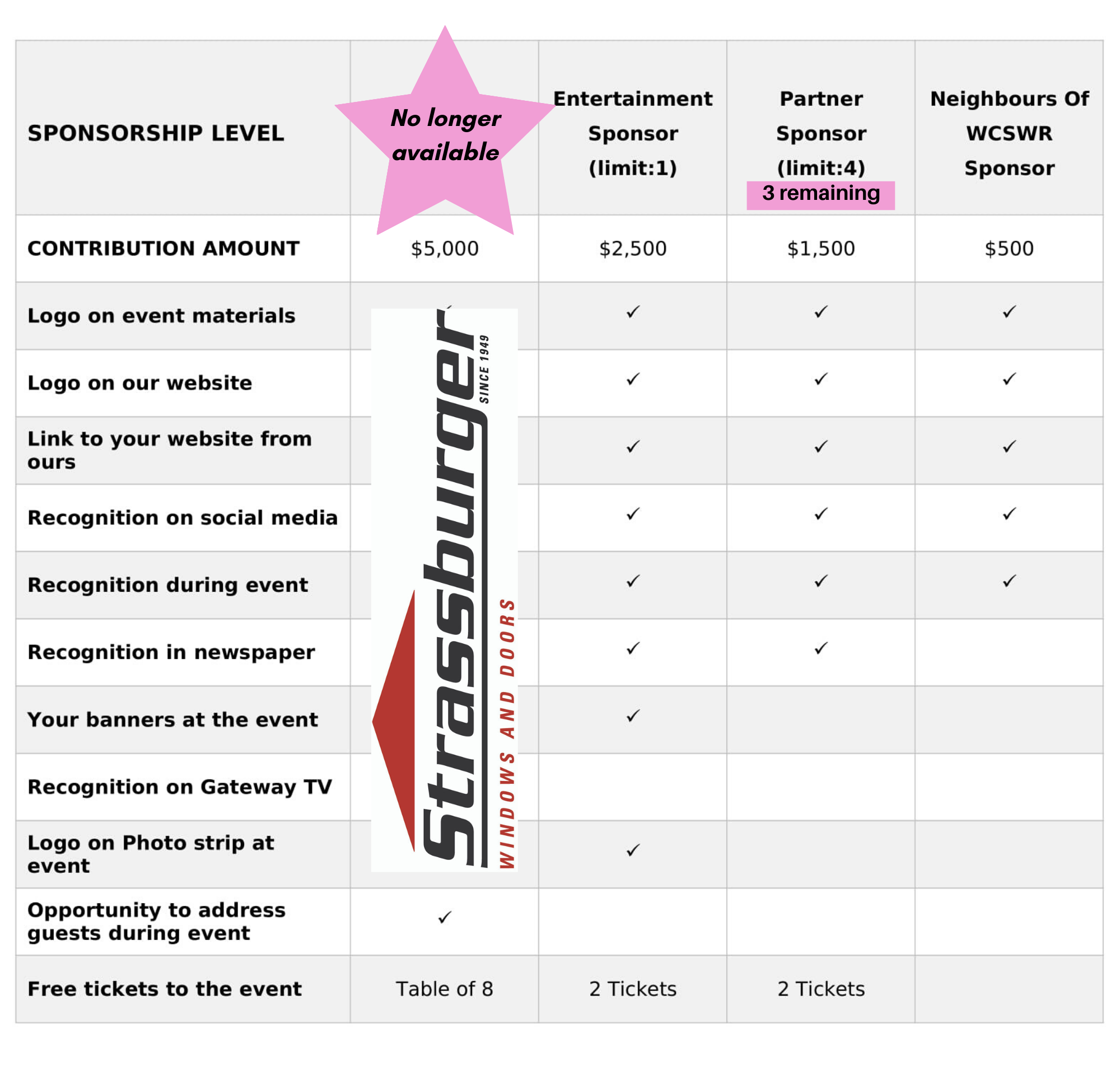 How to Become a Sponsor
Download the Sponsorship Package below and fill out the form on the last page.  
If interested in supporting our efforts with a donation to our silent auction, please download the In-Kind Sponsorship Package below, and fill out the form on the last page. We are currently seeking donations for our Live auction, Silent Auction, and Wine Pull. 
Return the form to:
Jenna Mayne, Communications and Fund Development Manager | 519-741-9184 ext 2003 | jenna.mayne@wcswr.org
Thank you for your consideration in sponsoring Hats Off to Mom! in support of women and children in our community.